Philadelphia Flyers Decision to Remove Kate Smith's Statue was Cowardly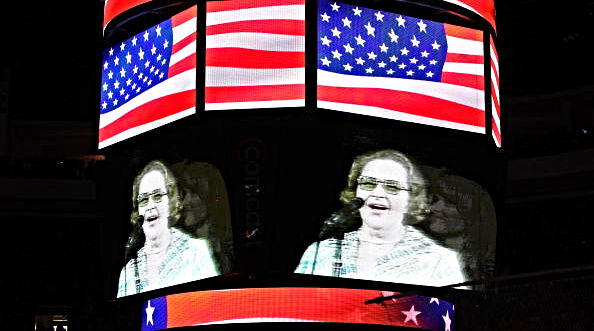 Listen to Clay Travis rip apart the Philadelphia Flyers and New York Yankees for the two professional franchises distancing themselves from the late iconic singer Kate Smith after it was revealed that Smith partook in singing racially charged lyrics in 1939.
Smith has been dead since 1986, but her notorious rendition of 'God Bless America' had become a staple at many stadiums around the country, with the Flyers paying homage to Smith in the form of a statue memorializing the World War Two-time singer outside their hockey arena. Ronald Reagan at one point had even awarded Smith a Presidential Medal of Honor for her patriotic contributions to the U.S. during World War II.
All of that changed last week after Smith's role in a questionable song performed 90 years ago was randomly uncovered.
Smith's part in the racist lyrics are still being contested. In 1931, Smith performed a song titled 'That's Why Darkies Were Born' alongside civil rights activist, Paul Robeson, who was an African-American actor. The song was apparently meant to act as satire at the idea of white supremacy.
Not only did both teams publicly announce they were no longer using Smith's song during their games, but the Flyers even took it to the next level of toppling her statue.
Check out the audio below as Clay discusses the bizarre story that Clay says was once again spurred by a perpetually offended social media mob. Clay believes this microscopic portion of society is a bumbling group of fake outraged losers who are continuously baiting organizations into folding for their absurd demands while smashing over the pillars of common sense.

Outkick the Coverage with Clay Travis
Want to know more about Outkick the Coverage with Clay Travis? Check out Premiere Networks!
Read more