LSU Crushes Georgia Southern, 55-3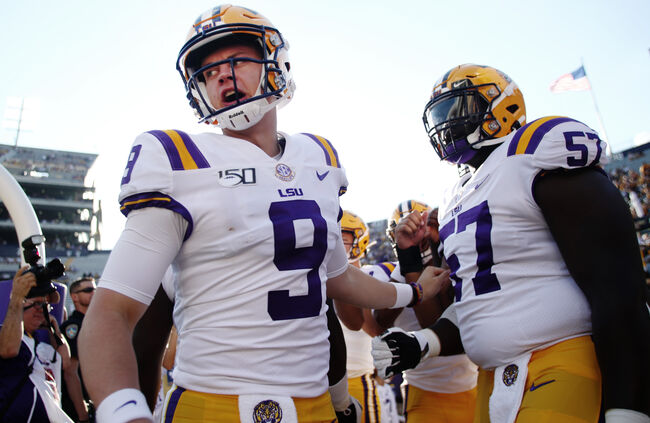 (AP) Joe Burrow tied an LSU single-game record with five touchdown passes before halftime and the Tigers cruised to a win over Georgia Southern, 55-3.
The Tigers (1-0) scored 21 points in the first quarter - something they never did in any quarter last season. Their point total was the most in a non-overtime game since scoring 63 against New Mexico State in 2014.
Burrow completed 23 of 27 passes for 278 yards without an interception before being subbed out after LSU's first possession of the second half, which ended with a field goal. That drive marked Burrow's last chance to break the LSU mark of five touchdowns in a game set by Zach Mettenberger in 2013.
LSU threw 39 times and ran 33, with more rushes coming in the second half as the Tigers ran down the clock. Ed Orgeron has said throughout August that he finally has the offense he wanted. Designed largely by new passing-game coordinator Joe Brady and overseen by incumbent offensive coordinator Steve Ensminger, the up-tempo, no-huddle scheme routinely features five receiving targets on a given play, some of whom give Burrow the option to unload the ball quickly if under pressure.
Georgia Southern (0-1), which won 10 games last season, was confronted with an LSU defense well prepared to stop its triple-option.
Copyright © 2019 TTWN Media Networks LLC Photo: Getty Images