Magic Warming Up With Pelicans Next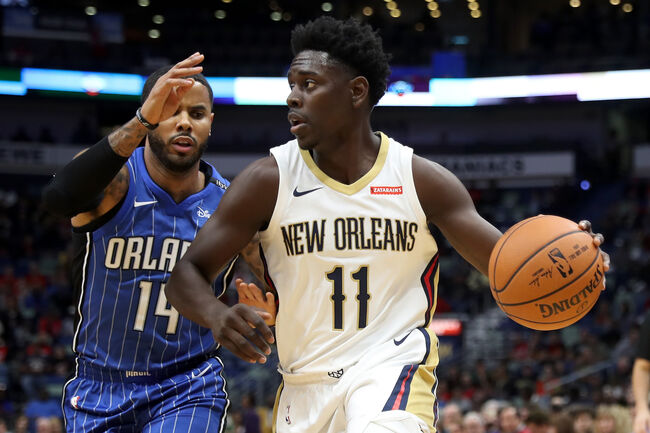 Jrue Holiday #11 of the New Orleans Pelicans drives the ball around D.J. Augustin #14 of the Orlando Magic at the Smoothie King Center on October 30, 2017 in New Orleans, Louisiana. (Photo by Chris Graythen/Getty Images)
The Orlando Magic are getting hot as the All-Star break approaches.
They won their third consecutive game -- and fifth in six outings -- when they beat the Hawks 124-108 on Sunday night in Atlanta and will try for a sweep of their three-game road trip when they visit the New Orleans Pelicans on Tuesday.
"Playing meaningful games, it's everything," Magic guard Evan Fournier told the team's official website.
"It's really, really hard mentally when you get up every day and have to just get out there (with nothing to play for). Now, we're competitors and once you're out there, you're going to give everything. But, it's just nice to be in it at this point."
The hot streak has placed the Magic within striking distance of a playoff berth.
"I've been in the league 11 years and I've been on teams that have won, so the atmosphere and energy are just different when you are winning, point-blank, period," guard D.J. Augustin said.
Orlando began this trip with a 103-83 victory against the Eastern Conference-leading Milwaukee Bucks on Saturday night, although the Bucks didn't play All-Star forward Giannis Antetokounmpo, who was resting a sore right knee on the back end of a back-to-back set.
The Magic fared better in their own set of back-to-backs when they beat Atlanta. Seven Orlando players scored between 10 and 19 points.
It marked the first time in nearly five years that the Magic has won road games on consecutive days.
"We've really put (together) two weeks and a few games here where we just have had more purpose and where we don't give as many possessions away," Orlando coach Steve Clifford said.
The Magic will try to sustain its momentum in New Orleans, then back home Thursday against Charlotte, which has beaten the Magic in 13 consecutive meetings, before heading into the break.
"We're playing really well defensively, and offensively we're moving the ball and playing together," Magic All-Star center Nikola Vucevic said. "Hopefully we can keep it up these last two games before the break. That would be huge for us."
The Pelicans, meanwhile, are limping toward the All-Star Break.
They defeated Minnesota, 122-117, last Friday in All-Star forward Anthony Davis' first game after a three-week absence. But they lost one night later at Memphis, 99-90.
The Grizzlies held New Orleans to its lowest point total of the season as the Pelicans lost for the seventh time in their last 10 games.
Davis, who was limited to 25 minutes against the Timberwolves in his first game back from a finger injury, played 34 minutes against Memphis and had 14 points and 16 rebounds. But he couldn't prevent New Orleans from shooting a season-worst 39.5 percent from the floor.
Julius Randle led the Pelicans with 21 points, making 7 of 13 shots. New Orleans made 6 of 33 3-point attempts.
Coach Alvin Gentry said the Pelicans played into the slow-tempo Grizzlies' hands by over-dribbling after getting off to a fast start with quick, consistent ball movement.
"I think we had too many dribble tantrums, where we would just dribble, dribble, dribble, dribble," Gentry said. "This is not the team you do that against because they are very good at getting into the ball.
"They are very physical and we took ourselves out of what was working for us and beneficial at the start of the game -- the ball movement, the people movement -- and because of that we shot the ball poorly, because our shot selection wasn't the greatest. Even when we had the good shot we didn't shoot it in the basket."
--Field Level Media/Copyright © 2019 TTWN Media Networks LLC